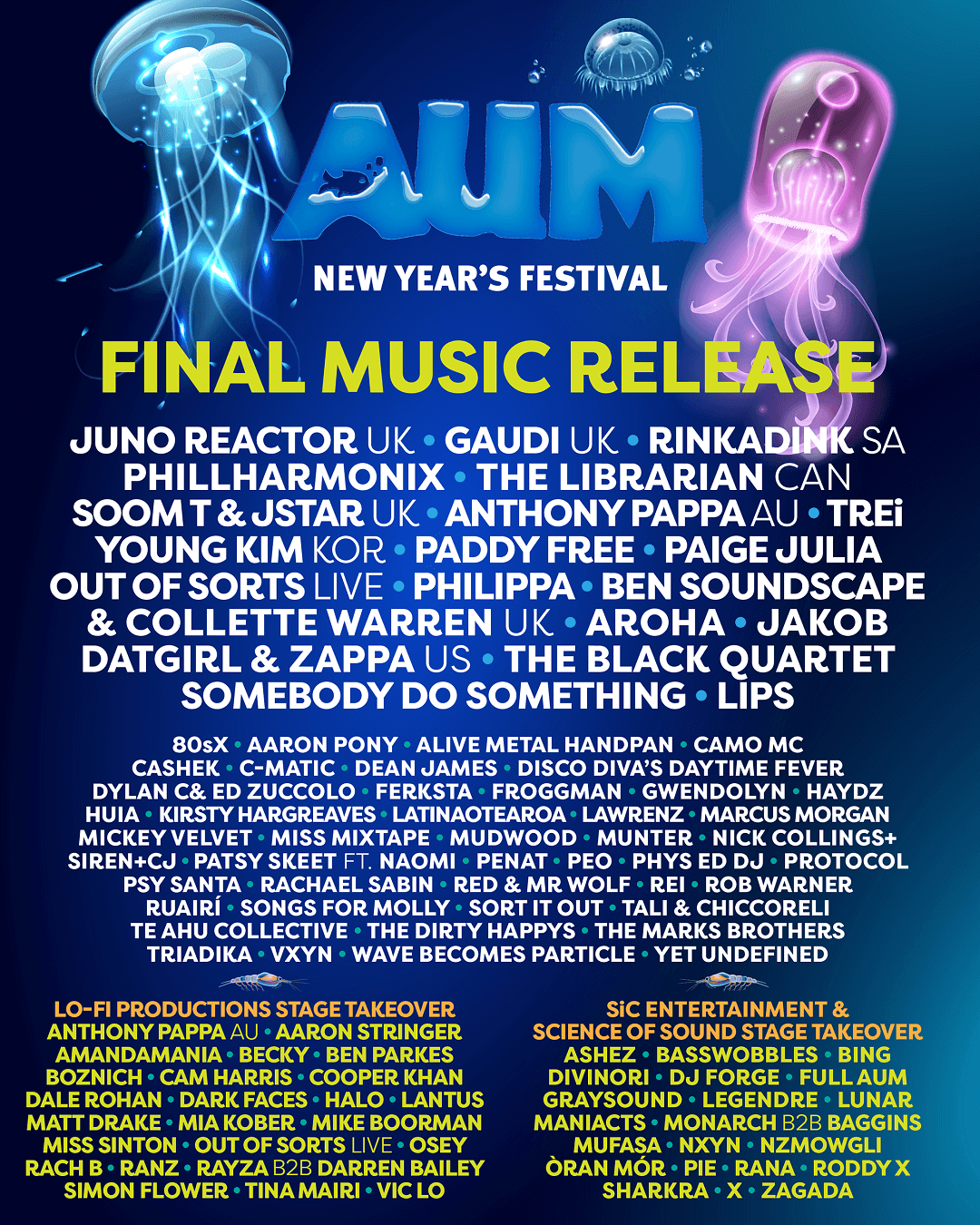 AUM is a family friendly, music, arts and camping festival held north of Auckland featuring music, performance and visual art, wellness activities and themed nights held across multiple music stages and zones. And all held at an idyllic campgrounds and Kānuka forest location north of Auckland.
We are Aotearoa New Zealand's joyful, inclusive, loving, community spirit event.
Music is sacred at AUM Festival. Our dance-floors are our church. We aim to bring you the most soul uplifting sounds from New Zealand and around the world. The most cutting edge music lineups with a no compromise attitude and zero interest in 'following the leader' or playing what's popular.
You can expect the most delicious aural vibes created by the most talented musicians possible. Expect the psychedelic. Expect the unexpected. Expect to be moved by our state-of-the-art sound systems and mesmerised by our visual production values which we create from the ground-up each year.
Our festival is home to a broad range of music including psytrance, techno, psychedelic rock, house, drum & bass, dub and downbeat, bass music, chill-out, world music and more scheduled across four themed stages.
AUM is about creating something new every year, to be a platform for music, art and activitis we love.
To invite and encourage all kinds of incredible visual art, performing art, ideas, interactions and creativity, and to support the beautiful artists of all kinds whom we are so privileged to have in our lives. We commit each year to offering artists from Aotearoa prominence on our line-up and to encourage and showcase new talent.
Whether at the Midnight Cabaret or Daytime Gala shows, playing live at The Hub, creating visual art, or attending a Healing Glade wellness workshop, the creativity on offer is an epic experience for all.
Some of our favourite moments are on our gallery page.
AUM Festival is a love story that began with the sentence: "Let's create an event and feel the joy of giving & receiving. Together. As a community."
Our gorgeous, sustainable, original, friendly and safe events bring beautiful, like-minded people and tribes together to celebrate as one.
What is important to us? Inclusiveness. Kindness and love. Integrity.
See what AUM culture is all about on our About Us page, and why AUM is regarded as one of the most fun and safe summer festivals in New Zealand and so popular with international travellers and backpackers.
See what AUM dance floors are all about
Scenes from last year's festival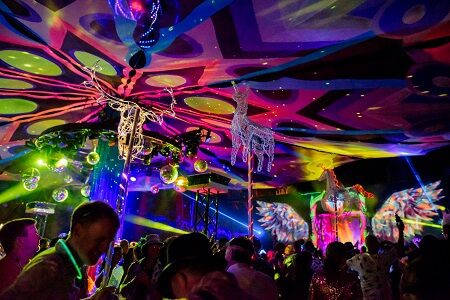 White Stag stage new year's eve psytrance showcase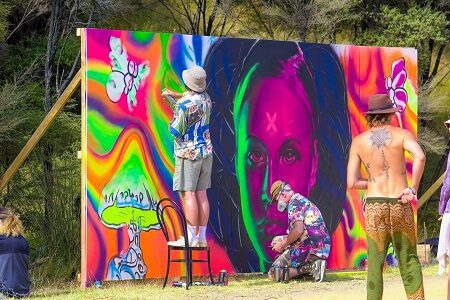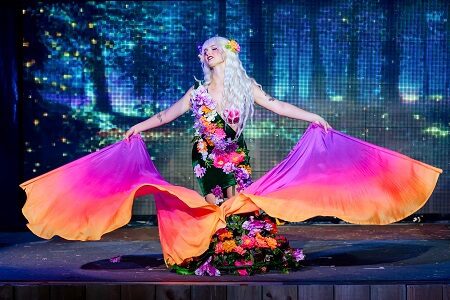 Midnight Cabaret performance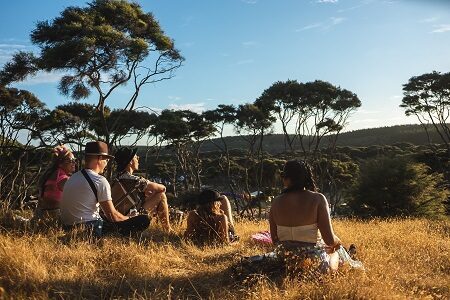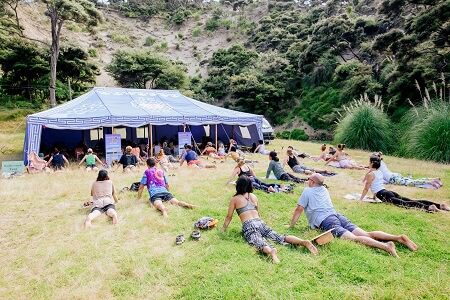 Healing Glade wellness workshops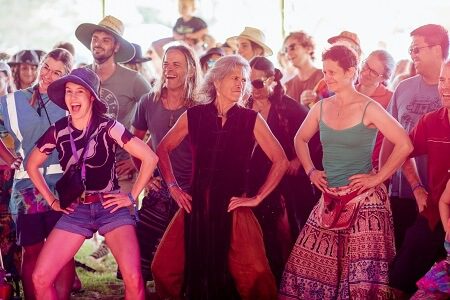 Family friendly activities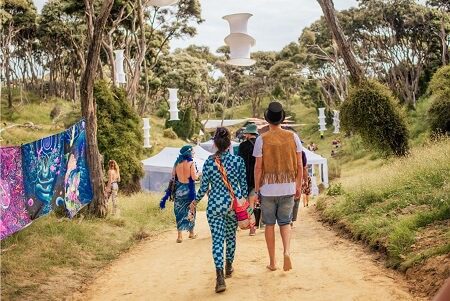 Beautiful natural surrounds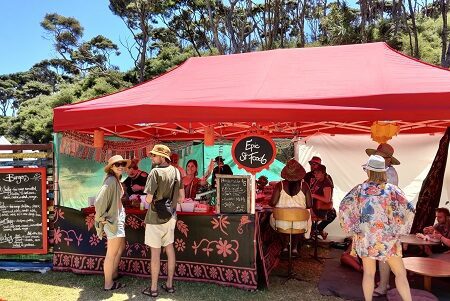 A range of awesome food vendors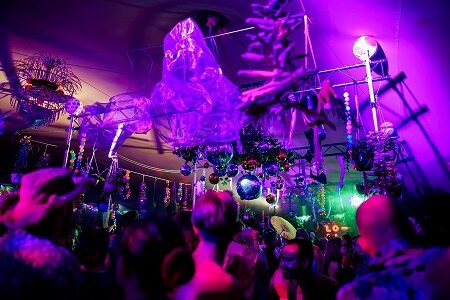 The Kānuka Stage, the home of underground house and techno